Announcing a new program from the South Side Diabetes team! To read the full press release article about this exciting new program, click here!
Improving Diabetes Care and Outcomes on the South Side of Chicago is teaming up with Walgreens and Experimental station to launch ?Food Rx.? This initiative will help people with diabetes improve their eating habits by overcoming two major hurdles when shopping for food: access and affordability.
Diabetes patients who visit one of six South Side clinics can receive a prescription-like checklist of their doctor?s food recommendations and a coupon for $2 off $10 or $5 off $20 worth of healthy food at participating Walgreens locations.ÿ Patients also can get a $9 voucher for the weekly 61st Street Farmer?s Market in the Woodlawn neighborhood. The Food Rx includes an information sheet to help fulfill the doctor?s recommendations. Download the information sheet by clicking here.
Dr. Monica Peek said the initiative puts the power of a prescription behind a doctor?s counsel on diet.
?The factors driving the diabetes prevalence rate on the South Side are multifaceted, and addressing them requires a comprehensive, nuanced approach,? said Peek, lead on the Food Rx initiative.ÿ ?Many of the patients we see have challenges accessing and preparing healthy food. Through continued education and initiatives like this one, we?re working to chip away at the obstacles and alter behaviors.?
Multiple studies have established the strong correlation of food costs and access with obesity, diabetes, hypertension and cancer rates. Many residents of the South Side do not have easy access to a nearby supermarket to purchase fresh produce and other healthy options.ÿ Instead, they opt for convenience and low-priced options by going to fast food restaurants or buying processed foods from corner stores.
The Food Rx initiative builds on the Improving Diabetes Care and Outcomes on the South Side of Chicago interventions already under way, including patient education, grocery store tours, tools for health care providers, improvements to clinic systems and collaborations with community organizations such as food pantries.
Food Rx organizers say the participating clinics are natural collaborators in this effort because they already serve the target population. In addition, Walgreens? prominence in urban communities and its commitment to provide greater access to fresh fruits and vegetables, low-fat dairy products and whole grains in many locations, make the Deerfield-based health and daily living destination another ideal ally.
?Walgreens is uniquely positioned to help improve health outcomes through the pharmacy, health and wellness services we provide and by making fresh and affordable food options available to South Side communities with limited access to healthier options,? said Denise Scarpelli, Walgreens market pharmacy director.ÿ ?Each day, our pharmacists provide valuable information, advice and support in the communities we serve.ÿ Through this program, the important patient-pharmacist relationship is taken to a new level and connects people with their pharmacist in a meaningful way.?
Food Rx also is working with the 61st Street Farmers Market, which features more than two dozen vendors offering locally grown fruits and vegetables, fresh whole grain breads, dairy products and healthy homemade meals. The market was launched in 2008 by the nonprofit organization Experimental Station and a group of residents who wanted access to fresh, seasonal food.
?Through our 61st Street Farmers Market, we?re helping to rebuild the food culture on the South Side and change food consumption patterns by making fresh and healthy foods available, more affordable and more desirable to the local community,? said Connie Spreen, executive director of Experimental Station.ÿ ?The Food Rx program will enable patients suffering from diabetes to discover how much better their lives can be if they put good food on their plates.?
Dr. Marshall Chin points out that while the impact of food access is significant, particularly when it comes to diabetes, there are many other dynamics at play with health disparities.
?These include cultural issues, health system issues, unconscious bias, residential segregation, fewer treatment options and limited community resources,? Chin said. ?Our overall project tries to address many of these elements. With the Food Rx program, we?re helping people with some of the elements they can control.ÿ Diabetes management is largely lifestyle ? what you eat and what you do.?
The Food Rx organizers will continue to look for other accessible destinations for healthy foods.ÿ Researchers will review feedback, redemption rates and other data from each site to evaluate program effectiveness and make any necessary tweaks.
Peek is proud of the Food Rx collaboration, and she acknowledges that transforming cultural norms that are generations in the making will not be easy.
?We didn?t get here overnight,? she said.ÿ ?But there is proven effectiveness in empowering people to make better choices, overcome social determinants and play a stronger role in their own health outcomes.?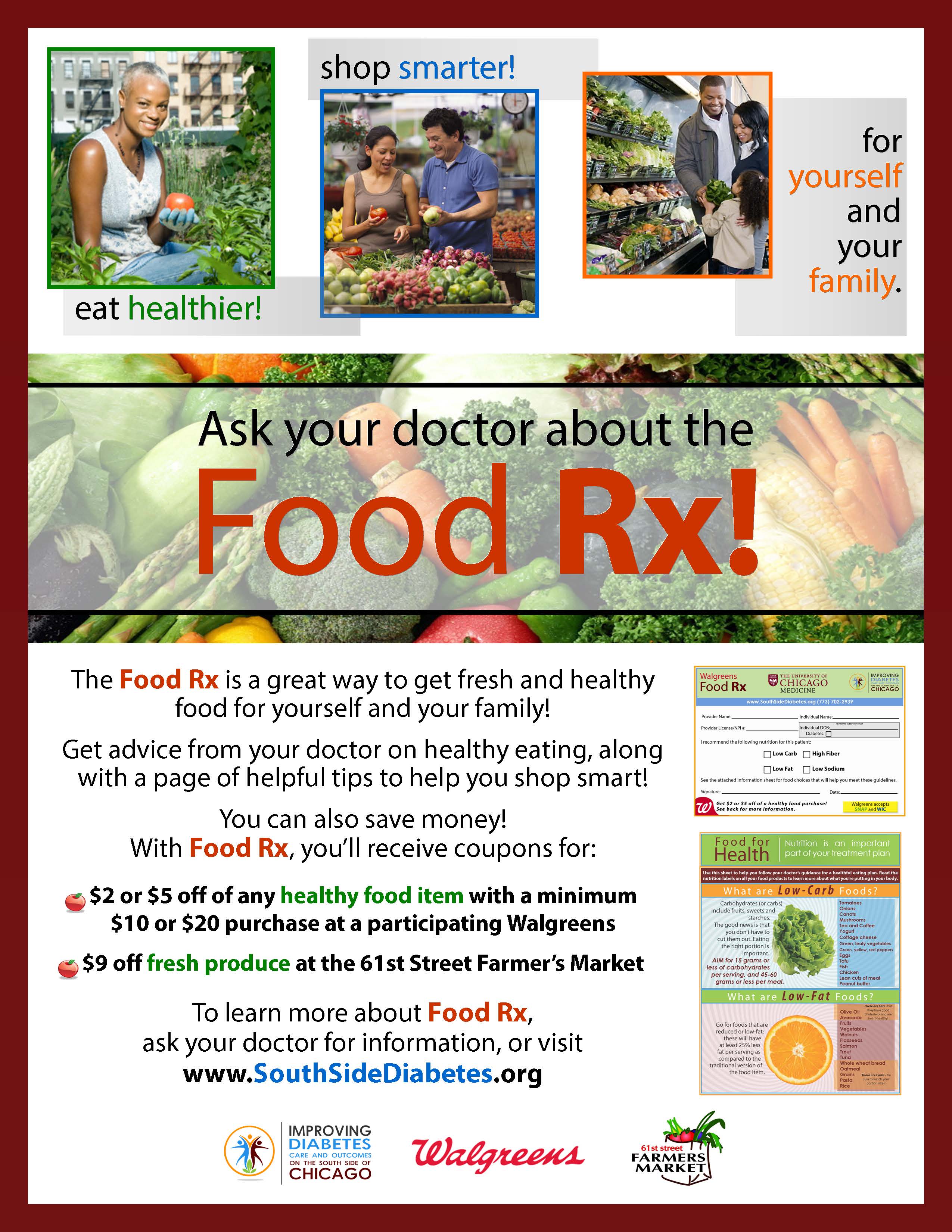 To learn about participating clinics please click here.
To download The Food Rx information sheet, with tips for choosing low-carb, low-sodium, high-fiber and low-fat food when you shop, click here.
By Tiffani Washington, Senior Media Relations Specialist at the University of Chicago Medicine